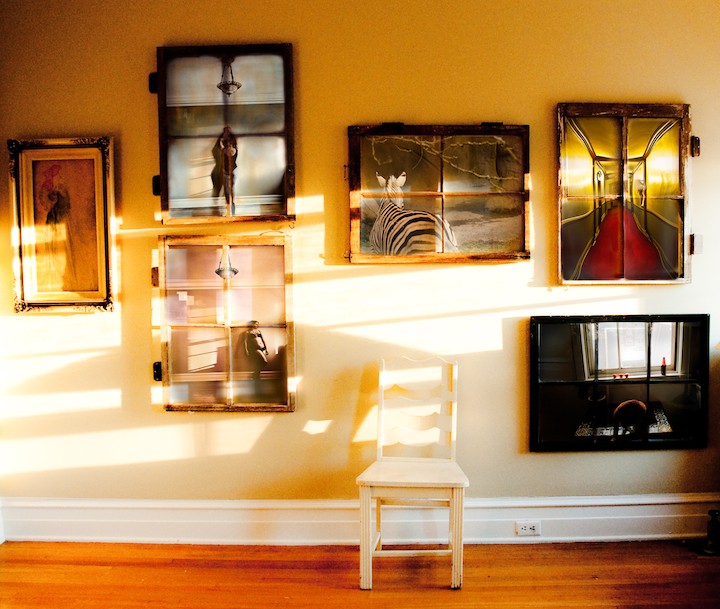 14th Ave, 2010
I highly recommend hosting an exhibition of your work. Not only is it fun, but it's a great way to learn without the pressure of working with a professional gallery under strict deadlines. Preparing your work for exhibition is learned by doing. This is an opportunity for you to learn about gallery approved framing and presentation methods, how to employ them, what it will cost you, and how long it will take you. Once you understand the logistics behind framing and presentation, you will not only be more prepared when working with a gallery, but also much less stressed.
So how does one go about hosting their own exhibition?
One option is to host an exhibition in your own home. Be creative here, and avoid preconceived notions of  what an exhibition ought to be. I once lived in a neighborhood that held its own Last Friday Art Walk. An organizer invited homes in the neighborhood to participate, then made and distributed maps, just as many cities do with professional galleries (though they traditionally to stick to the first Friday of the month). 
We hung art in our homes, opened our doors, drank wine in plastic cups, encouraged interactive art making during the walk, and had a very merry time.
Another example of a home exhibition is the Curated Fridge, created by Yorgos Efthymiadis, who says of the project--
"The idea behind this project is to celebrate fine art photography and connect photographers from around the world."
This is a great, and free, opportunity to submit work and connect with other photographers and gallery owners.
I had a wonderful experience participating in the On A Road Trip show in which the fridge went on a road trip to Photoville.
If hosting an exhibition in your home doesn't appeal to you, there's always the option to work with a business in your community.
First, find a business with suitable wall space, and then introduce yourself and inquire about showing your work. Don't be shy about this, as businesses are typically eager to work with you as a means for drawing new people into their locale. Be sure to ask about whether the business requires a commission on sales. Typically, businesses will either take a 10% commission on sales or just the pleasure of having their walls decorated.
This is also a great opportunity to host a fundraiser for a cause that you're passionate about! Check back later for information on how to organize and promote a fundraiser, as well as tutorials on gallery acceptable framing methods.