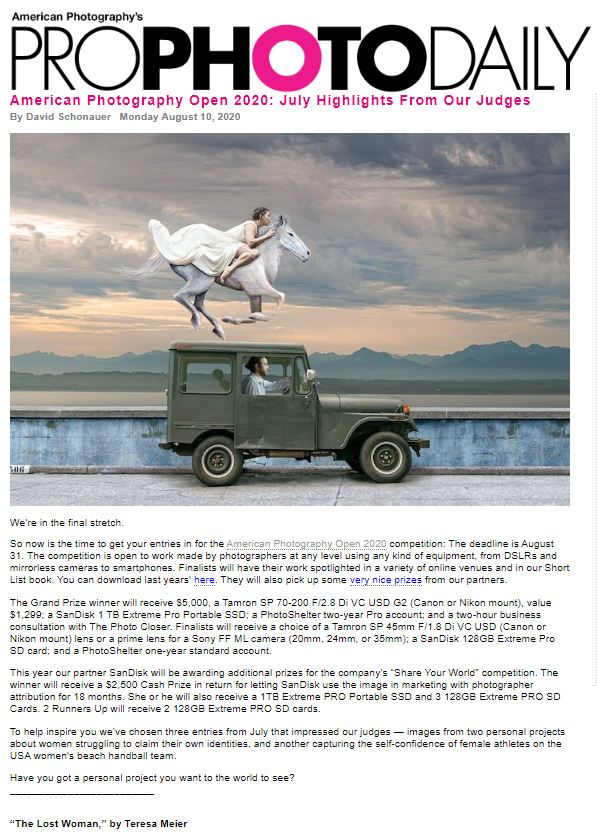 Are you a professional photographer? A serious enthusiast?
I am a professional in the early stages of my career, but my work has been recognized across the globe, as I have received both domestic and international awards and mentions. My profession is consuming and can only be described as serious and enthusiastic, which I believe is evident in my work. 
How did photography become part of your life?
I have always been obsessed with photos. When I was ten, I dug through a big box of old family photos and meticulously selected the most intriguing photos to cover my bedroom walls. My parents divorced around this time and I think I was looking for documentation; proof of a loving family. Photography holds this perception of truth and fact; a grounding to place and time that I find infinitely interesting. I discovered the darkroom as a teenager and continued to take photography and other art courses in college, but ultimately ended up pursuing a degree in neuropsychology, though I never stopped making art. It was always an outlet for me and brought about the deepest and most meaningful connections to people. I ended up working mostly with children during my psychology studies and always gravitated to making art with them. I loved the therapeutic power of it and found that to be the most fulfilling for me. Around the age of 27, I decided I wanted to give a go at being an artist. I returned to school and got a Masters in Fine Art in photography. I have been joyfully grinding away at it ever since. 
How did you come to make the picture?
There are two components to this image - my personal experience and my artistic influences. First, photography is my way of processing what I am going through in my personal life. This image is from an ongoing series that, in large part, investigates how our past experiences shape and dictate our present selves and relationships. I have struggled in romantic relationships my entire life, as I grew up with inadequate models for healthy, romantic relationships. In the past, I had the tendency to drift along with my partner's priorities. I did not know how to self-prioritize me and what I wanted from my life. This image is a bit about that struggle. My current partner is incredibly supportive, but we have different things happening in our lives resulting in different priorities. Relationships are a balancing act of one another's needs and desires and it can be difficult to maintain that balance. Culturally, we seem to be questioning and fighting against how historically we have viewed gender roles. We are in a time where women are really trying to reclaim, or maybe just claim, their power. For me, this image represents this intense desire to live while being bound to someone else's agenda; which I think many people, women in particular, can identify within themselves the same desire. 
Artistically, the image is a reboot of Rene Magritte's The Lost Jockey. He was commenting on the Industrial Revolution and the replacement of the horse with motor vehicles. Eadweard Muybridge is an influence here too, as the horse study comes from his experiments in movement. It is a nod to the fast rate at which technology evolves and how it transforms our lives for better or worse.
Where and when was it made?
I created the photo in January, 2020 in Seattle, Washington. The car was photographed in Portland, Oregon many years ago, but everything else in the image was shot in Seattle in late 2019 or January 2020. I have a custom-built PC that I use to create my composites. The printed image is quite large at 48"x72" and the computer is necessary to stitch together and composite the many photos that make up the image. Because I have an older model camera with a smaller sensor, I stitch together multiple photos to create the large-scale panoramas so that I can get the resolution needed to create a beautiful large print.
The horse is hand-painted with traditional acrylics on a high-density board or melamine. I am working on painting five shots from the Muybridge galloping horse sequence on a single board, which I intend to exhibit alongside the image. I have been contemplating recreating Muybridge's trip-wire camera technique as part of an interactive exhibition, as I like to create exhibitions that are inclusive and interactive for the viewer. I am not a look-but-don't-touch person and neither is my art. Play is a transformative experience that many people let go from their lives as they get older. I want my art to be an opportunity for people to engage in and experience play no matter their age.
Who is the model in the photo?
I am a self-portrait photographer, so the woman is me, and the man is my life partner. 
Was the photo published anywhere? Was this a personal project?
It was published in the Spring 2020 edition of West Trade Review. 
Yes, it is from a personal project. It is a part of the series, Collective Inventions, which began as my Masters thesis project and is ongoing.
What kinds of creative challenges did you face in making the image?
This was one of those images that came together relatively effortlessly; a rare and welcome event. I take daily walks in my neighborhood which comes with stunning views of the Olympic Mountains. I often visit a park up on a bluff at sunset and the backdrop in the image is of the Olympics from one of those visits. The blue wall sits across the street from the bluff and I noticed it for its lovely blue color. When I had the idea for the photo I knew the blue wall would be perfect for the image. I waited for an overcast day (not hard in the Pacific Northwest) and walked up and took the photograph.

I work alone, so setting up the Shop-Vac to get the dress to blow into the exact right shape was the biggest challenge. Because I work digitally, I am able to get instant feedback, and situations like this require a procession of shooting and adjusting until everything falls into place. And the horse is hand-painted so that took some time. The horse being painted always seems to surprise people and the question 'why not photograph the horse like everything else,' always follows. The answer is, because I want the horse to be mine, entirely of my own making. I wanted the process of making the image to reinforce the idea that I am creating a life of my own making in the image.
Honestly, it is difficult to view any of this as a challenge, as I love doing it all so much.
Finally, what camera/lens did you use?
Nikon D700 and 85mm and 50mm lenses. It has served me well, but I do wish it were a medium-format Hasselblad.