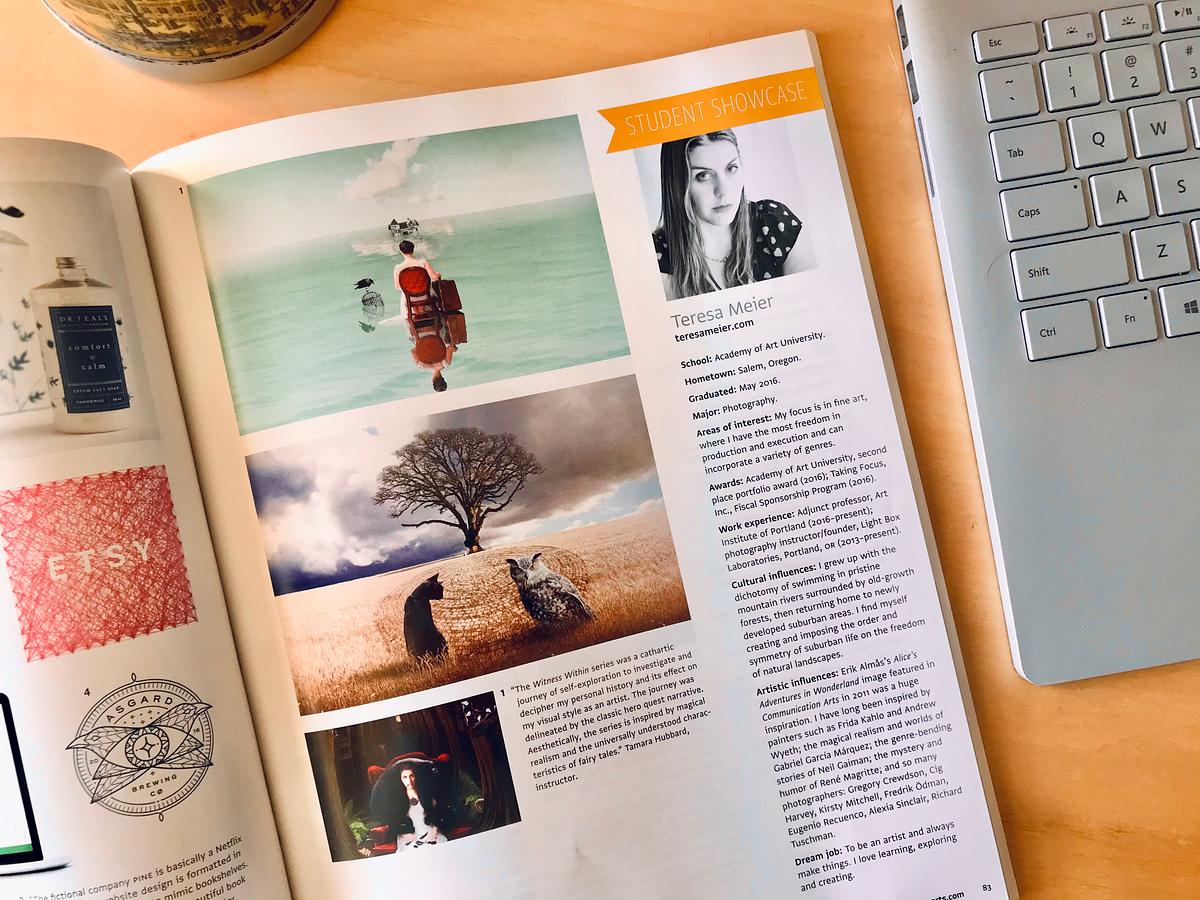 Check out my showcase on page 83 of the March/April Communication Arts Interactive Annual 23. 
The showcase features images from the Witness Within series, my thesis project for my MFA in fine art photography from the Academy of Art University.  
Artist Statement:
"You have to understand, my dears, that the shortest distance between a truth and a human being is a story."
~ Anthony de Mello, One Minute Wisdom
Being born the youngest, particularly among seven children, affords you the distinct advantage of going unnoticed. You get to watch lives and stories unfold. You are too young to understand, so you become an unknowing confidant, an idle listener with an uncomprehending gaze. You witness it all. Through the telescope of time, stories and lives are seen and comprehension slowly dawns. Memories are repetitiously analyzed, carefully handled and examined like an old photograph, causing truths to mutate, crack, fade and elude you. So you pursue them like Alice chasing her white rabbit down his hole, only to find yourself, like Alice, back at the beginning with only yourself. Only now, you are awake. 
In the words of Frida Kahlo, these images are the most honest expression of myself that I can show you. They represent all the things that I saw, all that I witnessed and experienced, disassembled, analyzed, and meticulously rebuilt into my own personal mythology. I sought out landscapes I'd ventured through, mimicked the unnerving symmetry of the suburban neighborhoods from my childhood, remembered my constant cat companion, and realized that vivid pink skies will always signify home to me. I carried around a box of family photos that as a child I had spent hours poring over, trying to make all the pieces of family fit together into some kind of whole.  I thought about the religion and father that damned me before I was born. I packed it all up, carried it with me, and let each place tell a piece of the story as I came to know it—slowly, in bits and pieces, out of time, and from many different points of view.
I seduce viewers with rich, fantastical colors and landscapes, hoping to open their minds and hearts and send them on a journey to discover their own personal narratives, bringing them back to themselves and their truths.
The images are best printed and viewed 48"x72"
The Belly is currently on exhibit at Ube Gallery in Berkeley, California.